The Photron SAX2 is one of the workhorses of the Slowmo range. It covers almost all ballistic and science based applications. It is one of the most light sensitive high speed cameras (ISO 25000) in the world, and regularly records at ultra-high (~100,000 fps) frame rates. One of its main uses is ballistic velocity measurement.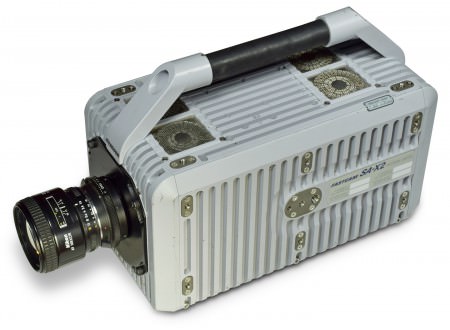 It has the extended 32 GB on board memory allowing for longer capture times, much needed when recording at high resolutions at high frame rates. Its frame rate/resolution specification is the same as the colour SA-X2, for example 22500fps @ 1024 x 600, 45000fps @ 512 x 512.
Such was the uptake with the SAX2 mono camera when first purchased, in both industrial and ballistic applications, Slowmo invested in a 2nd unit. As a pair, they make the ideal solution for multi-camera indoor/outdoor ballistic applications and for 3D dynamic motion analysis.
The Photron SA-X2 mono was the first black and white camera to be purchased by the company. Photron Europe Ltd sells in the region of 4 times as many mono cameras as they do colour, as there many advantages to having a mono sensor:
Increased sensitivity (~1.5 stops over the colour SA-X2)
Increased optical resolution (finer details within the image can be detected)
Smaller compressed file sizes (one third of the size of colour)
Dual slope shutter (this increases the useful dynamic range in scenes where detail in bright areas are preserved at the same time as maintaining details in darker regions). Especially useful when there is a high contrast, for example when recording explosions.
Sensor is Infra-Red (IR) sensitive allowing the use of IR lights in light restrictive areas.
Spectral Filtering – the use of special filters to either select or eliminate information from an image based on the wavelength of the information.
The SA-X2 comes with Nikon (F and G), PL and C lens mounts. Fully automatic Nikon lenses can be used with G Nikon mount. Two SD card slots allow for the download of recorded image data from the camera without the need for a PC connection. A hardware image trigger function allows automatic triggering from a change in the image.