The Photron SA-X2 colour high speed camera has an extensive range of uses and covers both analytical and broadcast based applications.  It can record at 22500fps @ 1024 x 576 resolution in 12bit colour, enabling amazing effects to be captured. This ability has led to its use on many occasions in the production of science based television programmes. In addition it is regularly used for in ballistics and munitions testing.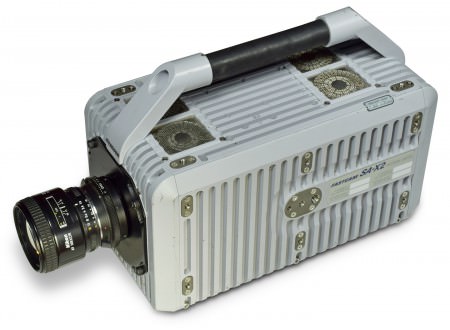 The SA-X2 provides an optimal combination of high frame rate, image resolution, dynamic range and light sensitivity with sufficient performance to capture high quality 12-bit megapixel images at up to 13,500 frames per second (fps). The addition of two SD card slots allow for the download of recorded image data from the camera without the need for a PC connection.
Extremely high light sensitivity. Rated well over 3000asa (over 3.5 stops more than HD high speed cameras). 16 GB on board memory and G mount for use with fully automatic Nikon lenses.