The recording of images of extremely small moving objects or processes requires both ultra-high frame rates and high magnification. Slowmo has a special zoom lens to cover this type of application. When used with the new NOVA S12 high speed camera, extreme close-ups at ultra-high frame rates are possible.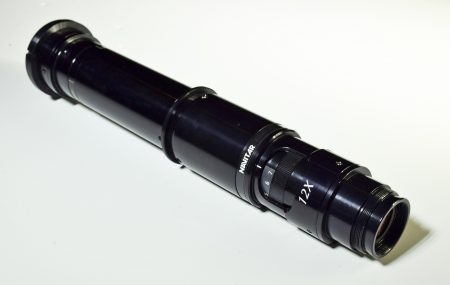 Navitar 12x zoom lens with 2x Nikon mount adapter
A field of view (FOV) of ~1.4mm is attainable with the Navitar lens from a practical working distance of 86mm.
This working distance allows the flexible positioning of external light, focussed past the lens and onto the subject matter. The Nikon mount adapter allows for the full sensor (1024 x 1024 pixels) to be used. If there are space restrictions, the working distance can be extended to 325mm with the use of a 0.25x lens attachment (supplied with the kit).
At the highest magnification, for displacement/resonance calculations, each pixel at 1024 pixel resolution relates to 0.0013mm. With this same setup you can zoom out to a FOV of ~17.5mm.
Slowmo has recently purchased the new EFFI-SPOT light source from Effi-Lux for sole use with the Navitar zoom lens. The EFFI-Spot is a high-powered extremely bright LED projector with an integrated fan and perfectly suited for close-up scientific and industrial applications. It is also possible to control the light intensity via a dimming control.