Slowmo is pleased to introduce the latest camera to its range, Photron NOVA S6 mono. This camera is from the latest range of Photron models and when used with the new PFV4 software, it provides a camera with the flexibility to be used in a wide variety of scientific, ballistic and industrial applications.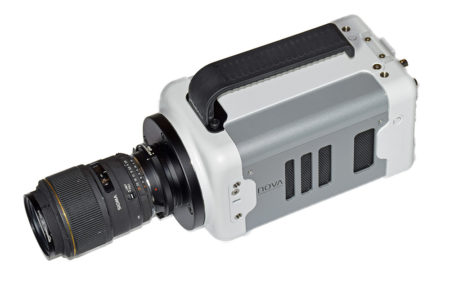 The NOVA S6 camera will cover applications that currently sit between the Photron SAX2 and Photron AX-100 and can easily pair up with either camera when two synchronised views are required.
The NOVA offers 12-bit image recording rates up to 6,400 frames per second at megapixel (1024 x 1024) image resolution (12000 @ 1024 x 576; 20000fps @ 640 x 480), and shutter speeds to 0.2µs.
The NOVA provides the best light sensitivity in its class (ISO 64000) and comes in a new compact, lightweight and quiet 'sealed body' design that prevents dust and corrosive particles from contaminating sensitive electronics. The fans can be turned off during recording for any vibration sensitive measurements.
Due it's sensitivity the NOVA is recommended for macro applications utilising the Navitar 12x zoom lens. Exposure at high magnification can be further enhanced using the High Dynamic Range Mode (HDR) available on the new PFV4 software. This makes use of the full sensor dynamic range, allowing enhanced detail in both light and dark areas of an image to be displayed simultaneously. Click here for further information on macro filming.
The 32Gb recording memory can be divided into multiple active sections. The user can record an on-going event in one memory partition while at the same time downloading a previously recorded image sequence in order to improve workflow and optimize camera operation.